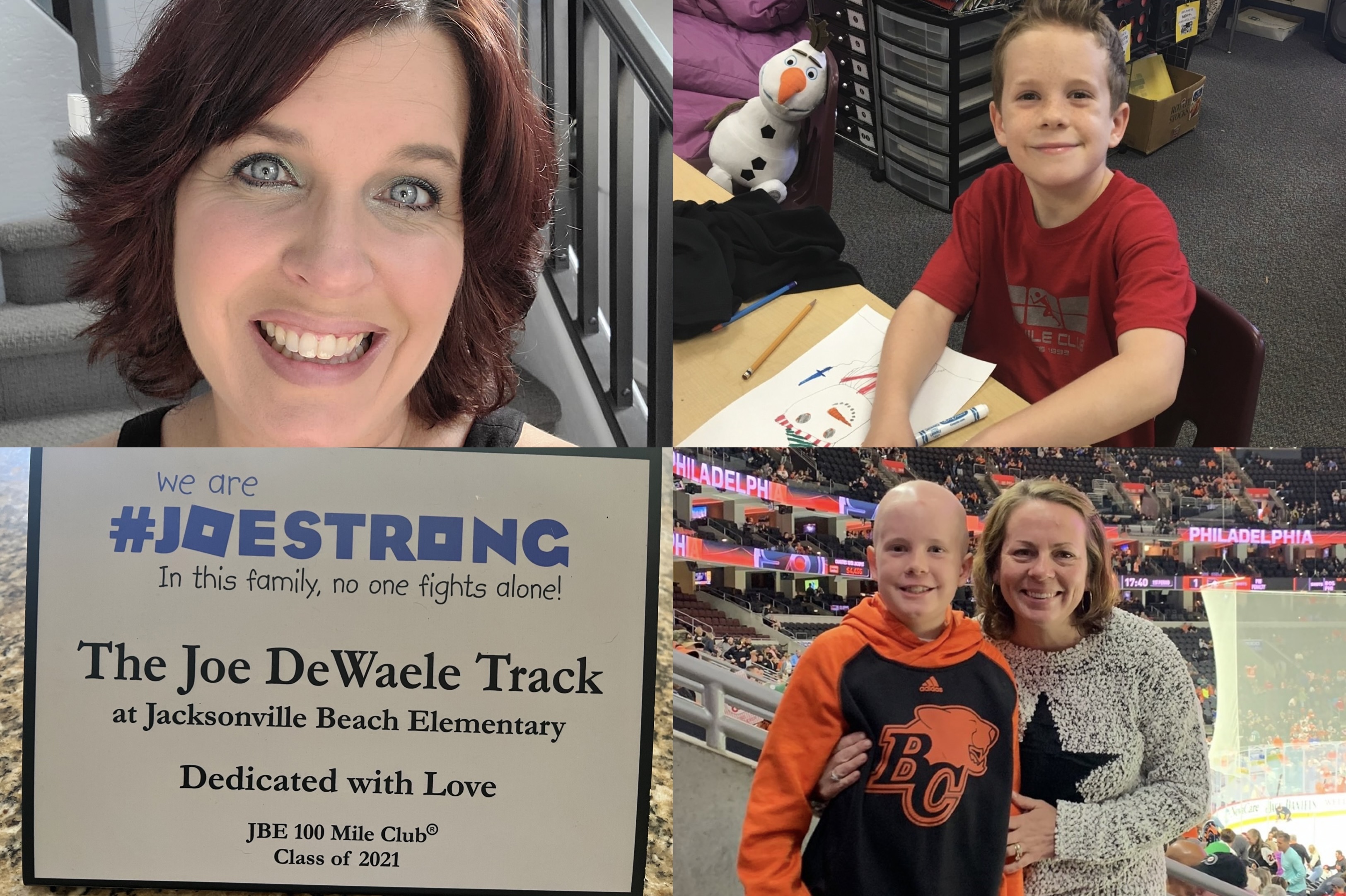 Carolyn Dewaele's Validation from her son, Joe, through Fara Gibson
I had my second reading with Fara Gibson this afternoon and to say it was healing, amazing, mind-blowing and heartwarming would be an understatement. Like all parents, we go in hoping to connect with our beloved children, and that is exactly what I got from Fara and my sweet, firecracker Joe.
As Fara began, she said she had a young male son coming through and described Joe and his illness (a rare subtype of leukemia), she let me know that my son was aware that I was with him "every step of the way" and that his dad made it possible. Joe shared facts about the months he was sick (including specific details of the short time it lasted) that no one outside of our immediate family would know. He was able to share that he knew we were all there, including his older brother, for his last breath.
As validating as that was, the next hour completely knocked my socks off. Fara relayed that I get rocks in the shape of hearts and that I had a blue one. I do get all kinds of heart signs, including rocks, but for the life of me could not picture a blue heart. Joe pushed on and Fara began pointing (on Joe's direction) to a cabinet behind me- which was out of her line of sight- she just trusted what Joe was showing her. She told me to turn and look over my shoulder. As soon as I did, I saw it! A geode rock, in the shape of a heart, with an unmistakable blue hue. It's not that I had forgotten about it, it just wasn't in my immediate thought pattern. It turns out, Joe gave that "rock" to me on the last Easter we had with him back in 2019. We happened to have a geode kit and thought it would be fun to crack them open. Well, when Joe took his turn, this exact rock is what he got. I was blessed he gave it to me and didn't give up in directing our attention to it!
Fara then asked if Joe has a brother, which, of course he does. An older brother. Fara asked me why Joe was showing John at camp. Well, John was AT CAMP at that EXACT moment. She then asked why he was showing her weight lifting and that it didn't seem like a regular camp. The camp is for teens and consists of weight lifting all morning. I was able to show Fara the app from the camp that shows John's workout for the day and that he had done deadlifting, squats and how much weight/reps he completed.
Fara then asked about a road trip that we took recently. Fara then said, "tell Mom, I have the older male in Heaven with me, your uncle". She also asked about fluids at the end of his life. As you probably guessed, we did travel out of state, last month to attend my uncle's funeral. And part of his cause of death was a bladder infection that caused excess fluids to accumulate in his body.
Joe knew that his room is intact, just as he left it. He was able to tell Fara he see's me as I turn the lights on in his room. I do this every day- nightlight at night and bedroom light in the morning which stays on all day.
Joe spoke again of his brother. Fara asked about sports that he plays. Stating that Joe shared his brother DOES NOT like playing football but loves basketball. And that Joe watches him play at school- but not on a team- at lunch. We have been pushing John to play football, which he absolutely DOES NOT want to do. And just two days ago, he stated to us "I love basketball, it's my favorite sport. I love playing it after lunch with my buddies at school". My husband and I were the only other people in the home at the time to hear this.
Fara then asked about Joe's daddy- stating almost immediately that Joe didn't call him daddy but dad. 100% accurate. She asked about Joe's dad and playing golf. Well, Joe's dad was playing golf at the EXACT moment we were in the reading.
Joe was able to share details about flowers on our patio that were planted about a month ago- he's been gone for almost 4 years. He talked about specific colors, orange- which also happens to be one of his favorite colors- of flowers and he was right. He talked about the fact that his brother is learning to drive, hits the curbs a lot! And suggested a nick name of "curb check" for him! Too funny and so Joe! He talked about how he played baseball but loved running. Joe was part of a running club at his elementary school. After his passing, the school named the track after him because of his love for it. Joe talked about family memories of skipping rocks on a lake- which we did when he was about five years old. He also relayed that "change my necklace out every day". I have to necklaces- one with Joe's thumbprint and another that his brother gave me. I do, in fact, change them out every other day so that no one ever feels left out.
I have eight pages of validations and things that only I would be aware of. Joe showed me that he is 100% present in all that we do, every single day. Fara is honest, tells it like it is, and is spot on accurate. I absolutely love that she follows what your person is telling her- like with the rock- and puts that trust in our loved one. It was my second reading with her and I can't recommend her enough. So much love for Fara and all she brings. The love, healing, and trust in what we can't always see. Thank you, thank you.
~Joe's mom, Carolyn Dewaele
---
---