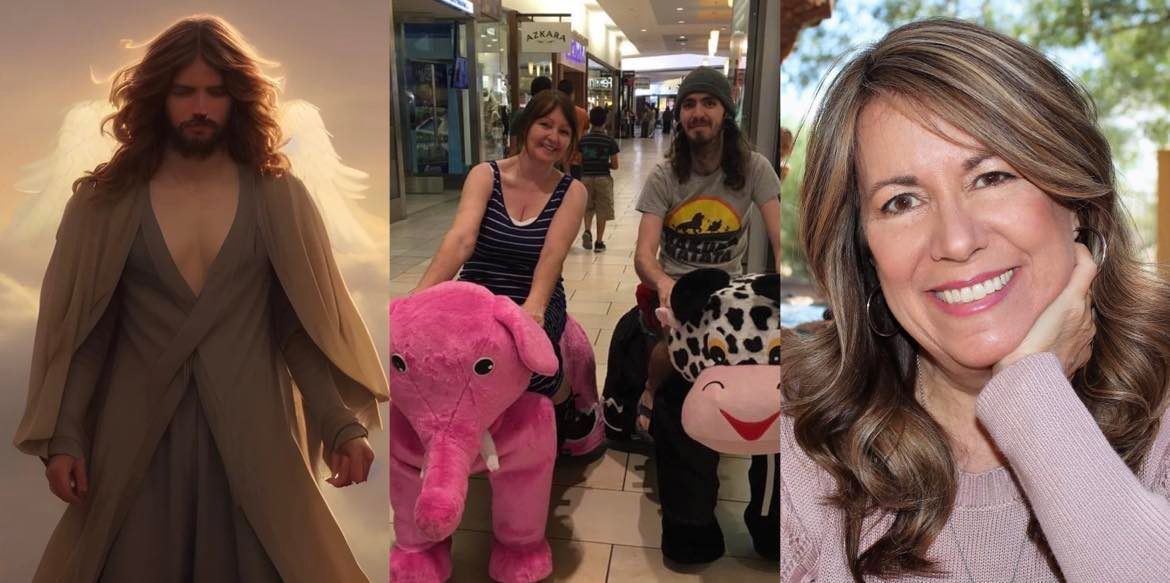 Deborah Connor's Validation with her son Jimi through Lisa Wilcoxson
Lisa had an amazing connection with my son on Feb 28th and everything she related was accurate!  She described him as a hippy, which he called himself with his long hair and mindset.  I'm pretty sure I snorted when he told her he looks like Jesus because we always joked about that and I created an AI photo of a male angel with long hair and it looks like my son as Jesus, which is what made me laugh!  He mentioned helping me find some stones or something in my path. I had lost my memorial ring and crystal hearts on a hike and he helped me find them. She mentioned sugar skulls, well I bought two crystal skulls in Arizona months ago and just unwrapped them for his shelf 2 days before. And I've been having candy cravings lately, bought a bunch of his favorite gummies and he showed her a Hershey bar, which is my favorite.
She asked if I was planting a garden and said to be careful with the ferns - well I planted a gardenia at work and ferns at my apartment and neither of them survived the crazy weather & I felt bad when she said fern because I tried sooo hard to keep that one going in my house and failed :( but I'll try again as it gets warmer. He said that I miss him the most with the phones and it's true. We texted all the time and he sent me a little beep beep car emoji every day at 4:45 when it was time for me to come home and we would go for a drive. We sent each other tiktok videos and messages constantly. I carry his phone with mine because it still connects in my car and his Pandora stations randomly play even when I have something else on. I listen to his videos to hear his voice and am thankful to have this.
Lisa asked if his dog's name is Bear. It's not his official name but most everyone called him that because he looks like one when he's walking - he's scared quite a few people on hikes because of it!  They are both together.
She did ask if my son was in a wheelchair. He should have been his last few months and he had difficulty walking his last year but he never complained and rarely used one, but he was slower and I have no idea how he managed. He said that I helped him and pushed him and now it's his turn to help and push me and get me out of my comfort zone. That's putting it mildly - he's my other half! She saw him laying in a bed of flowers. My sign that he's around is getting strong smells of flowers, mostly gardenias.  She got the image from a movie/book 'The Way of the Peaceful Warrior' and said he related to that. He battled chronic illnesses for 13 years, with his last two really bad, yet he was happy and very self-aware.  Sounds like the right movie movie title!. He said he was very peaceful and his mind was clear. It hadn't been for a while until his last couple weeks, not knowing he was transitioning. He wanted me to know he was okay. He said goodbye with his signature "peace out" and peace signs that he was always doing in his pictures! It was such an uplifting reading and my heart is happy.
I just saw the  preview for the movie 'The Way of the Peaceful Warrior' and that adds another wow moment:  Jimi's medical issues happened due to a motorcycle accident that he barely lived thru.  He was never the same and he fought for everything he regained, even with constant setbacks.  He wasn't at fault in the accident, but it changed his life and sent him on his own spiritual journey that brought him peace, self-awareness, and so much compassion for life and others who suffered, despite his own constant pain.  I definitely have to watch this movie and read the book.
Thank you Lisa!!
Jimi Connors July 2023 ♾ 30
Please watch Lisa's YouTube video from February 28th by clicking
here.
---
---