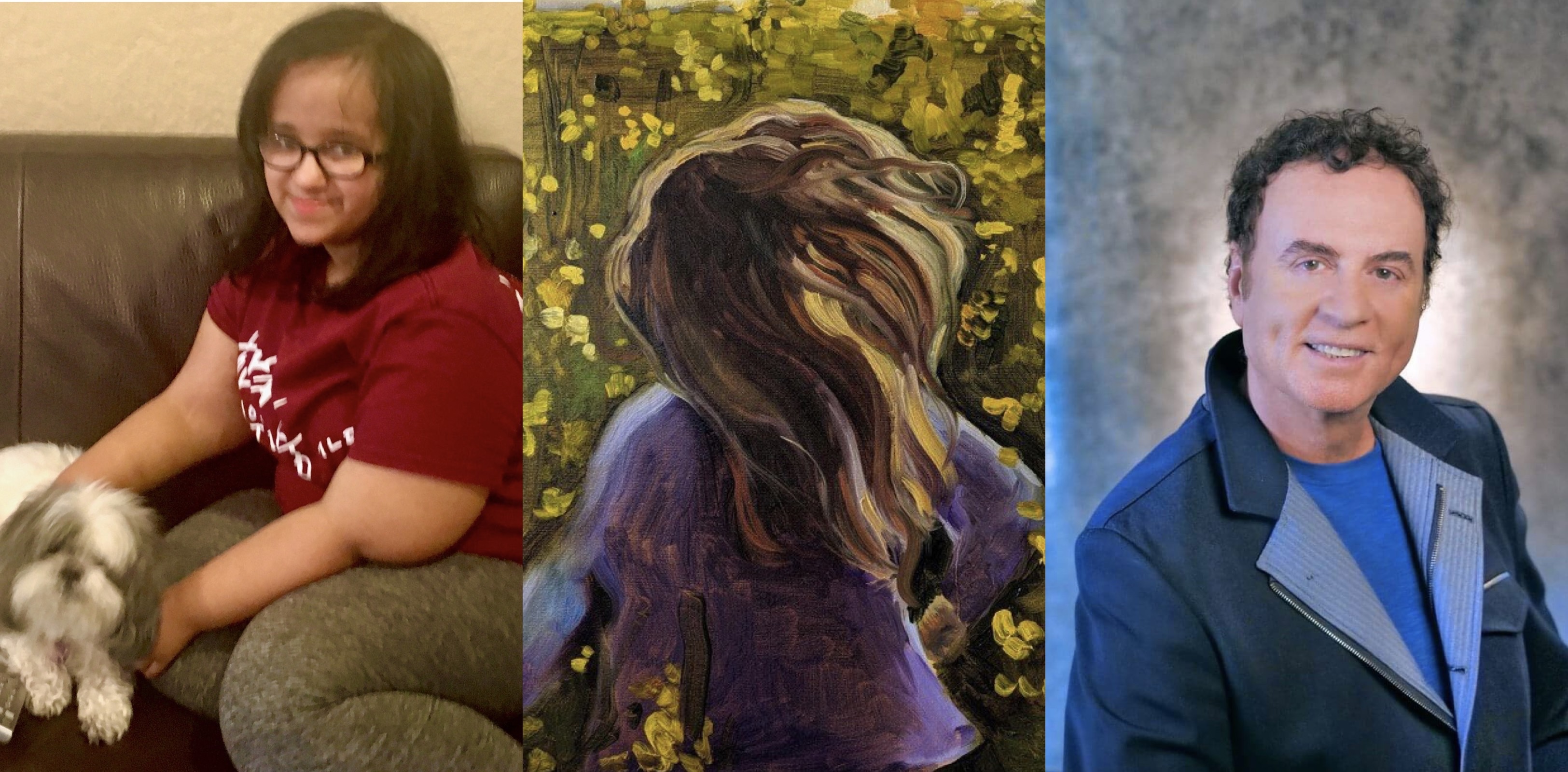 Ishtak Selah's Validation from Ariel through Mark Anthony
Ariel and her dog, Bubbles, The Painting Mark Described, Mark Anthony
Mark Anthony Gallery Reading September 6, 2023
My Wife, Sabina and I had the pleasure of talking to Mark Anthony on September 06, 2023.  During the gallery reading, our daughter, Auditi Saleh, came to talk to us through Mark.  We call her Ariel because her big sister, Ramee, was a big fan of the movie Little Mermaid and insisted on us calling her little sister Ariel.
Mark started the gallery reading describing a spirit of a young girl giving him sensation of choking, respiratory failure, being very ill before transitioning.  Our daughter transitioned on July 16, 2021 due to a respiratory arrest after a minor surgery.  She had been on a ventilator for 3 weeks with her lungs failing.
Mark said that Ariel was holding a small poodle. We had a dog named Bubbles with whom Ariel has a spiritual connection. Ariel loves Bubbles very much.  Bubbles joined her on the second anniversary of Ariel's transition; not just to the exact day, but to the exact hour. 
Next Mark mentioned lavender and lilac. Light purple is Ariel's favorite color.  She sends her signs in light purple.  Once a tiny light purple butterfly was flying over her grave. Sabina found a light purple colored heart on the grass of the graveyard.  
Mark mentioned about a drawing or a painting and asked if there was something we were working on or not.  We recently requested a very talented young artist we know in Europe to do a painting of her.  She completed the painting and said that it would take some time to dry the paint.  We have a photo of the painting where Ariel is wearing a light purple dress running towards the sun. 
I have to share the story behind the painting.  That afternoon of her transition, I had dozed off at the ICU chair next to her and I dreamt her smiling and very happy.  She was running fast towards the sun through a beautiful green field on a wonderful sunny day.  I saw incredible colors that I cannot even describe. She transitioned that evening.
Mark also said that she was so happy to find us very proactive and working hard to accept our grief and having strong faith. We do have a strong faith in Spirituality after her transition.  We did not think about Spirituality before.  We have new friends at HPH who have been helping us to face our traumatic experience on a daily basis and giving us hope that one day we'll see her again.
~Written by Ariel's Dad, Ishtiak Selah
Watch the YouTube video by clicking here.  
---
---