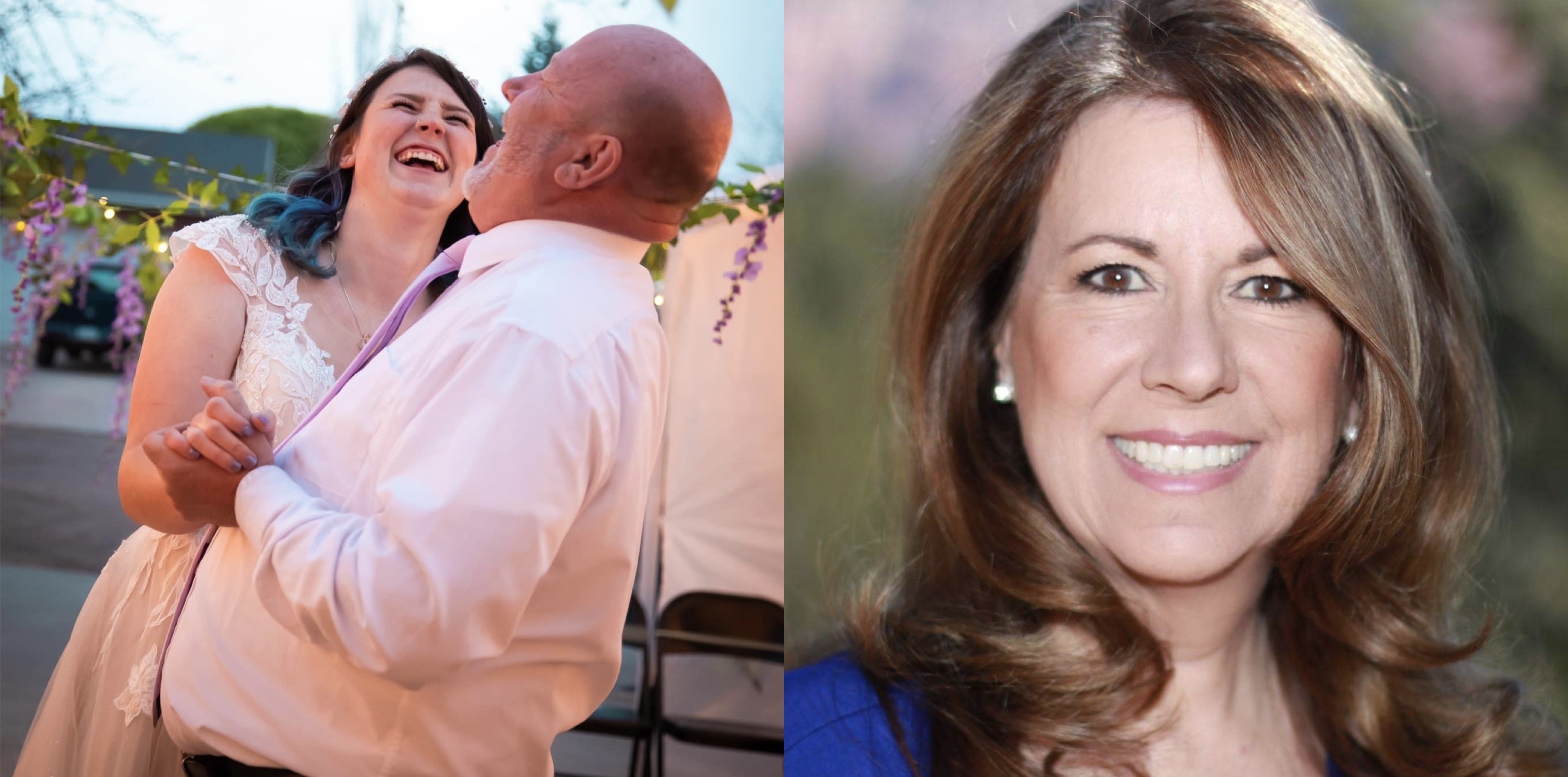 Jeanette Shumway's Validation from Lisa Wilcoxson
Jamie and her Dad
We were delighted to connect with our daughter Jamie through Lisa Wilcoxson at Unity of Phoenix in September. Jamie first came through with the mention of a heart locket I've been searching for since her passing. She then acknowledged the cemetery tree I've decorated for her each month. She said she loves the trees.
We've not yet ordered Jamie's headstone, but a few days before the reading—while visiting the cemetery—Jamie's sisters and I spoke about how we'd like to commission someone to create a marble sculpture of her in place of a traditional headstone. It delighted us to hear Jamie tell her dad, through Lisa, to "get Mom the marble." She said it was important for me but that she also thought it was pretty cool. It made us happy to know she likes our idea.
Also, while at the cemetery, my daughter Paige noticed an Almond Joy candy bar that had been left by Jamie's grave. She asked me if Jamie liked Almond Joys. I said I believed she did and that she must have because someone always leaves them for her. During the reading, Jamie mentioned the Almond Joy. When I later told Paige about this, she said she wondered if Jamie would bring up the Almond Joy because Paige had made fun of her for liking them.
Our beloved dog Jack passed shortly after Jamie. Since that time, I've asked Jamie if she thinks we should get a companion for our dog Sirius. I told her if we're meant to get another dog, she'd have to tell me because I'm apprehensive about it. She confirmed that we should when she told Lisa we'll be getting a rescue dog. It was a gift to know she hears when I speak to her and wants to help us.
Jamie, who worked with her dad, told him she is still helping him as he expands his business and builds his new building. He has definitely felt and experienced the truth of this. Jamie also said she gets her sense of humor from her dad, and she does. Because of Jamie's sense of humor—and with Lisa's assurance that it wasn't ominous—we've had the best time laughing about Jamie's message to, "watch out for dangerous Dan". We don't know a Dan nor do we know why he'd be dangerous but it's now become a fun family joke. My husband even went as far as to make a sign for his new building that says, "Danger. Watch out for Dangerous Dan." We can't wait to ask Jamie about the meaning of this in the future.
Jamie also mentioned the matching bracelets we wear for her and she told us she sends roadrunners as a sign for us. Which she does. It was a delightful reading that filled us with astonishment and joy. We are so grateful to Lisa for sharing her gift with us.
~Jeanette Shumway and family
---
---