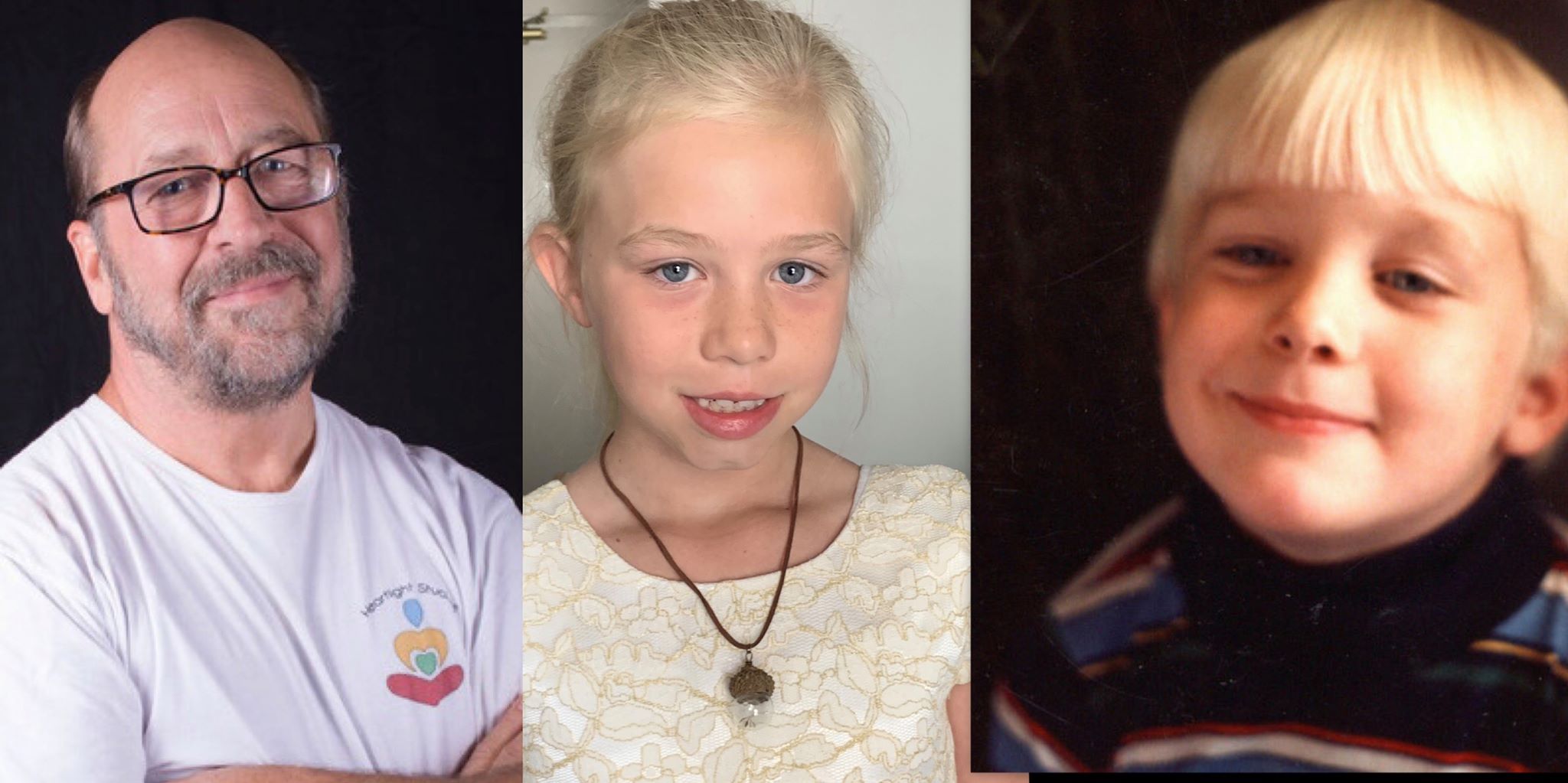 Mitch Carmody - The Quantum Physics of Continuing Connections
December 1st, 1987 changed my life forever; my 9- year-old son Kelly James died from a malignant brain tumor. Twenty-three years later to the day my life inextricably changed again; my granddaughter Olivia Kelly was born. Same weight, same length, same face, same eyes. We were shocked by the resemblance and the incredible timing that she was born on the calendar day of his death, but we were not totally surprised. We knew. A friend, a psychic told me several months before my daughter even knew that she was pregnant; that this was going to happen; and it did.

This friend from high school called me out of the blue circa 2009. We had not spoken or seen each other since 1973 when we both graduated. She had seen my book in a bookstore (Letters to My Son) while browsing grief books, as she had too lost a son recently and felt a psychic connection with him. My contact information was in my book and she called me about using my publisher. While she was speaking with me, she said, wait a minute, Kelly is coming to me now…she then went on to say 'Congratulations, you are going to be a grandpa again, Kelly is coming back to be born into your family.'

I was speechless for the first time in my life. My jaw literally dropped, accompanied by a rush of reactive hormones that seemed to be buzzing throughout my body. I literally could not speak.  I regained my composure within a few moments and I lamely croaked out: Wow, I will have to call my daughter; which I did post haste. Meagan, what are you not telling me?  I have it on good authority you are pregnant. Her turn to be almost speechless but she quickly managed to say quite vociferously: Your friend is nuts Dad I am not pregnant.

I said honey don't shoot the messenger and I explained the call. She went on to say that the lady is obviously confused, that's is just plain bat shit crazy, no one can know that, besides I am on the pill, my husband lost his job, we are losing our house, we have no insurance with a 3-year-old toddler to raise. We are not pregnant or plan to be anytime soon. End of story.

Six weeks later I get a call from Meagan. Dad this is crazy, I missed my period and have taken two home EPT tests that read positive. She met with a doctor who confirmed that her home tests were correct, and she was indeed pregnant with a due date of November 16th, 2010.  My son Kelly's birthday. Coincidence?

November 16th came and went, no baby. I was disappointed it did not happen on Kelly's birthday but also grateful, as I was out of town at the time. She was now running two weeks late and they were considering an induction but did not have too as she spontaneously went into labor a little after midnight on December 1st, Kelly's angel day.  Later that morning my daughter gave birth to a little girl, Olivia Kelly. For her birth and grateful for the miraculous manipulation of the mystery that provided us with such a gift.  Continuing connection.

Fast forward 5 years I find Olivia in our yard hugging a tree and crying. I asked her what was wrong? She replied "I miss Uncle Kelly, and when I hug a tree like this, he talks to me. I simply replied, wow what did he have to say today? She said, he said, "we are going to call you Winnie the Pooh now".  I replied that's interesting and I dug through our DVD collection and found the movie and we watched it.  The whole 100 Acre Wood characters in this video were trying to fix Eeyore's grief for the loss of his tail. Epiphany!  I then created a grief workshop "Who are you in the 100 Acre wood? "which is now part of the proactive grieving model used in my presentations ever since. Continuing connection.

December 1st, 2018 Olivia turned 9 years old, now the same age as her uncle when he died. She is now old enough to articulate better what she is feeling. She said she had a dream a few years back of her being in the ER at a hospital and she was so scared, and she associated it with Kelly.  She told us this spring she had a dream with Uncle Kelly in it and she asked him why she was born on his death day? She said he replied, "so I can see the world through your eyes". Best thing I have heard in response to her unique birth circumstances.

I share this story publicly as my granddaughter has only known a continuing connection with her uncle by living it. It is not a learned behavior, hidden behavior or wished for, but it just is… as natural as brushing your teeth she has known nothing else her whole life. We keep Kelly in the present tense in a non-physical relationship. Quantum Physics theory supports that a sustaining molecular relationship is involved in all matter and is not limited to time and space.

This summer I was asked to provide a full day Proactive Grieving seminar for the Canadian branch of The Compassionate Friends in Winnipeg. The seminar is broken into 4 pods of lecture & interaction; body, mind, soul, and spirit. In the "spirit" pod we focus on the topic of continuing connections, signs, dreams, and synchronicities. We talked about signs on the drive up to Canada from the Twin Cities. She said I want 4 signs this weekend from Uncle Kelly, a purple orb, a feather, a heart, and a rainbow. Olivia was on the alert.

The first night at the hotel she scurried over to "the claw" toy machine in the lobby.  I think, for the most part, it is impossible to win.  She saw a purple ball and said Kelly I need that orb! Of course, she picked it up!!! She later found a heart rock, and a feather, but rainbows are harder to come by.

 At the conclusion of the day, we had a candle lighting and we played Alan Pedersen's' iconic song Tonight I Hold This Candle that is used for ceremonies worldwide.  I was on stage performing an interpretive sign to the song and was not at the table with my granddaughter, but my wife was and witnessed a miracle. When the lyrics came on…" if your looking down tonight and see this candle burning bright, it says I am wishing you were here" my granddaughter closed her eyes and she saw Kelly smiling at her, coming toward her and he hugged her. She said he had short hair and was wearing a long-sleeve white robe with gold trim. She said to me later: It was real Papa; I saw him he hugged me.  

That night we go up to our hotel room and we see a huge storm blow in right before sunset. They had not had rain in 6 weeks. Olivia was praying for rain to get her rainbow. We heard thunder and looked outside to an approaching storm. It rained hard briefly, the sun came out and a huge double rainbow appeared outside our hotel room. The look on her face indelible in my mind, one of pure love and gratitude stamped with eternal hope.

Hope is validated by quantum physics. Our thoughts, actions and intentions are not limited to constraints of classical mechanics. Our ability to communicate with our loved ones who died is backed up by the quantum mechanic's entanglement theory. This occurs when two particles are inextricably linked together no matter their separation from one another. Although these entangled particles are not physically connected, they still are able to share information with each other instantaneously — seemingly breaking one of the most hard-and-fast rules of physics: No information can be transmitted faster than the speed of light…yet it does. And for the bereaved its a miracle. Even Einstein acknowledged the unusual phenomenon in physics...by saying it is real, but just plain spooky.

Continuing connections, communication and even choice is integral to subatomic particles creating matter, which is life itself and eternal. Quantum theory proves it is impossible to be separated; death does not win.

-Written by Mitch Carmody, who will be speaking at our Second Helping Parents Heal Conference in Charleston, SC
www.heartlightstudios.net
YouTube: MrHeartlight
Heartlightstudios.wordpress.com  

We are thrilled that Mitch will be presenting at our Second Helping Parents Heal Conference in Charleston, SC in April, 2020.  
---
---