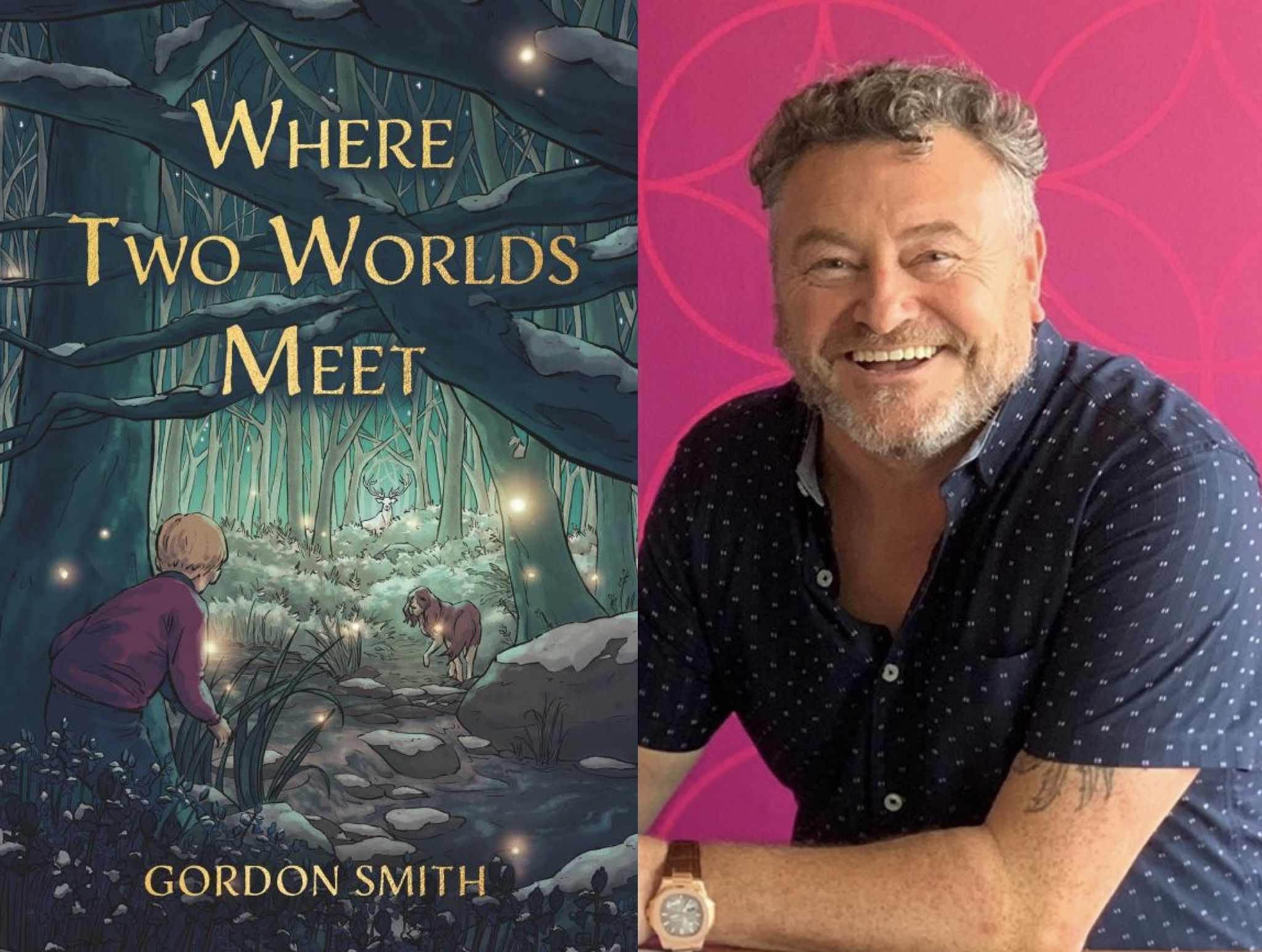 Praise for Gordon Smith - 'Where Two Worlds Meet'
Please add this wonderful book to your summer reading list!
Gordon Smith's beautiful new work, 'Where Two Worlds Meet,' is a comforting guide to healing after the passing of a loved one that will reassure both parents and siblings that our children in spirit are still right here. Gordon Smith recites this inspiring journey through the intuitive eyes of Dill, whose sister Amber has recently passed of cancer. Although his parents, grandmother, and the entire family are devastated about Amber's transition, they find solace and support from the magical animals and countryside surrounding them at Moonstone Cottage in the Dip-in-Dells. This healing story is similar to beloved children's classics such as 'The Lion, The Witch and the Wardrobe,' and 'Peter Rabbit,' containing essential, mystical lessons about the cycles of life and death and the importance of Mother Nature. In it, Dill's Grandmother Vi and the friendly, enlightened creatures of the Dip-in-Dells lead Dill, along with his mother Rose and his father Tom, on a path towards healing, reigniting the light dimmed by Amber's passing and proving that love is eternal.
I highly recommend this uplifting, healing work. Gordon Smith is a cherished supporter of our nonprofit, Helping Parents Heal, and we are grateful for all he does to help parents and families heal. He is also a multi-talented artist who writes and paints works that are palpably inspired by the light and beauty he channels from the other side. For our Second Helping Parents Heal Conference in Phoenix, Arizona, in 2022, Gordon donated a magnificent Angel entitled 'In The Light, All Are Angels,' featured on our program cover, which allowed us to give scholarships to many parents who would not have otherwise been able to attend. 
-Elizabeth Boisson, Helping Parents Heal President and Co-Founder, Affiliate Leader, and Newsletter Editor
'Between Two Worlds' is a wonderful and uplifting book that will bring comfort to those dealing with the passing of a loved one. Everyone will enjoy this tale about the adventures of Dill, his family, and all of the creatures that live in the magical land of the Dip-in-Dells.
The characters came to life, and I enjoyed reading every page. I especially loved reading the wisdom relayed through Mrs. Brabbit and the other magical animals who made their home near the Moonstone Cottage.
Gordon's comforting words about the cycle of life and using one's "sense" as a form of communication will hopefully open the minds of those skeptical of the continuation of life after one transitions to the hereafter. 
Both children and adults will enjoy this book, which will most certainly heal many parents and families.
-Irene Vouvalides
Helping Parents Heal Affiliate Leader Hilton Head/Bluffton, HPH Vice President, Conference Director
Gordon Smith's new book, 'Where Two Worlds Meet,' is a beautiful work showing the love and challenges a family goes through after the passing of Amber, a young girl who transitioned as a result of cancer.  Amber's parents, along with her 10 year old brother Dill, move to Dill's grandmother's country cottage to deal with the grief they are experiencing.  Dill and his grandma share a language of inner knowing, which allows them to communicate with the animals and the environment around them.  Gordon does a wonderful job explaining the different seasons in life as they relate to humans, animals and Mother Nature and how we all must learn to adapt.  
Dill and his grandma go on a lovely journey, together with the forest animals, with the goal of bringing light back into Amber's parent's lives and to prove to them that life is eternal.  This book offers many things for an older child to an adult, including fantasy, shared love of a family, the idea that with are interconnected with all around us, and the hope of life everlasting.  
-Written by Lynn Hollahan, Co-Leader of the Helping Parents Heal Caring Listeners, Co-Affiliate Leader of Helping Parents Heal - Book Club
'Where Two Worlds Meet' is such a sweet story. Gordon Smith does a wonderful job to show the reader that life is eternal, and our loved ones never leave us. This book is entertaining for children as well as adults. The connection young Dill has with nature and the animals is magical and provides a great deal of healing.

Gordon Smith has provided so much support to our nonprofit group Helping Parents Heal. We are forever grateful to him.
-Written by Carol Allen, Helping Parents Heal Board Member, Affiliate Leader of Helping Parents Heal - Cave Creek, Co-Affiliate Leader of Helping Parents Heal Book Club, Caring Listener
---
---