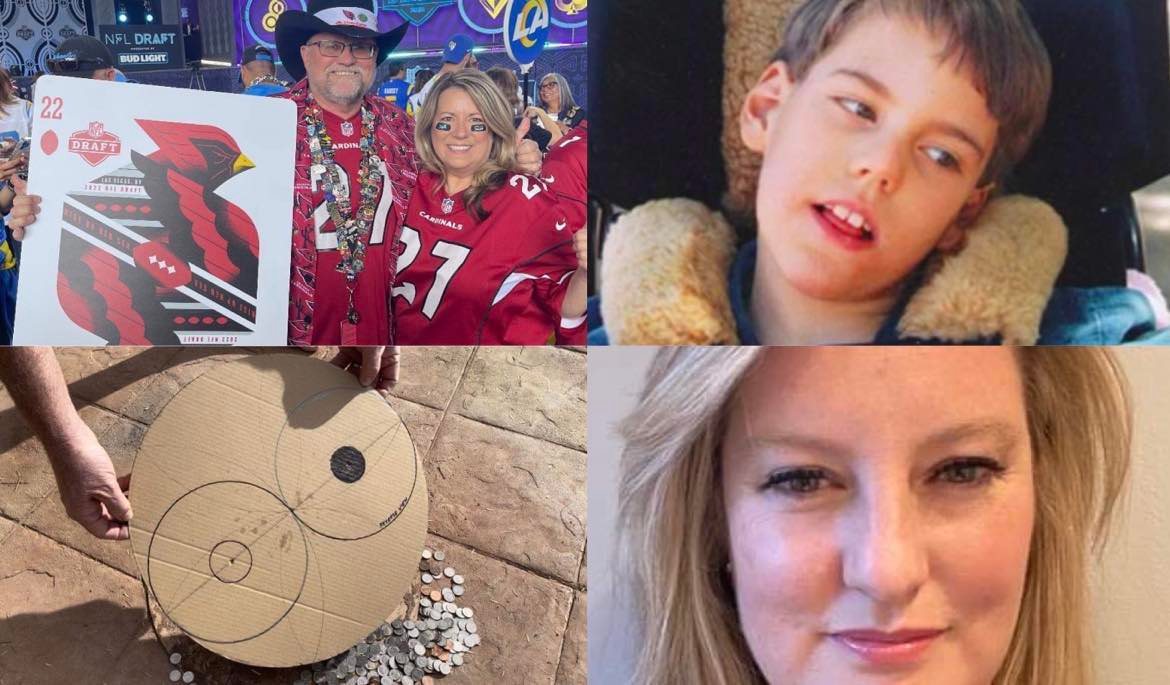 Rick Wilcoxson's Validation through Kat Baillie
I joined the already in progress, Helping Fathers Heal Zoom. in February.
Kat Baillie had the floor and with closed eyes, was "blending with spirit", offering instructions and recommendations for healing and enhancing spirituality.
She then interjected a comment to one of  men in the audience, a recognition that someone in the group was dealing with pain in their foot—their right foot—a joint in the right toe. With each refinement I acknowledged that I fit the description. She could be referring to me. My big right toe has had a flare up of painful gout, but I thought others in the audience might qualify too. She and I returned to her broad message from spirit.
After a few minutes, Kat opened her eyes and changed her focus to scan the several dozen men on the computer screen. To my surprise, she recognized me and was drawn to give me a message from Michael, one of my sons in spirit.
I was surprised on many levels. One of them was that Michael had passed many years before  Anthony and in the past ten years, Anthony has been substantially focused on more than Michael. Secondly, though I consider them my son's, biologically and legally they are both my stepchildren and I was only in Michael's life for the last two of his twelve years on earth. Finally, he never spoke, so I never had normal communications from him. I always questioned the validity of anything I sensed FROM him.
Kat nailed it, or I should say, Michael did a great job and I'm grateful that Kat brought him into my focus.
Kat started by announcing that she and I had met but she had never read for me or discussed my children.
As she began to connect with Michael, she interrupted herself and exclaimed, "Are you the man with the problem with your foot?"
I confirmed that I was, and a sensation rushed through my awareness, which validated the previous mention and a connection to something much bigger than me. 
She said that I might be unaware of nighttime changes since I was a heavy sleeper and my wife complained that I snored loudly. All were true.
She began describing him as "not fully physically… mobility was affected." (He was physically immobile and could move his arms only within immense limits. He most easily moved his head and she acted out those motions.)
She continued, "He had trouble swallowing but his airway was open." (He could breath easily but needed fed through a tube to his stomach because he couldn't swallow.)
She "…felt he had a tube, at one point, placed in his throat…" (He required intubation just before he passed)
Then she hit the relationship Michael and I had. She stated a few times that we spoke and laughed "with our eyes". 
That was the harpoon to my heart that gave me chills. THAT was something known only to me until this reading, when Michael acknowledged that what I had been thinking with him so long ago, was seen the same way by him.
I wasn't in his life for the first nine years and didn't grow with him and his condition. I had to learn on the fly. I had offered a one way verbal communication with him and the only response I received was that which I contrived in my mind—or so I thought until now.
She conveyed Michael's description of my tendencies as tidiness (haha), hyper focused on tasks, not taking breaks, artistic, and an extreme DYI guy. All were accurate. 
We had first met at the conference several months ago and a small group of us celebrated her birthday over dinner, but I assure you, these things she described are not things she would have known from that social event.
Kat said Michael was showing her a deck of cards being shuffled and cut but he didn't want to deal them. She laughed, seemingly confused, and couldn't interpret it much further.
What immediately came to mind, as I explained, was that when Cards are mentioned, I think of our hometown football team, the Cardinals, Cards for short. She had never heard of them.
Michael showed her and I confirmed, that the team had just cut a player earlier that day.
I also said how the NFL draft was important to us (primarily related to Anthony's angel date). She said she saw a hand being raised "like cheers or something ". 
I instantly knew what she and he were referring to.
A year ago, Lisa and I attended the draft in Las Vegas. The stage and city had been elaborately decorated with the theme of playing cards with different teams' on the faces. We were given a giant foam Card we had used as a prop representing our team. I raised it, (like a toast or something) for three days in support of the team.
What became important was that this Card/prop had been on display directly across from my desk chair for months but it was not there any longer. I became distracted by that fact. It is 2' wide and 3' high, not easily lost. It wasn't where I'd left it and I sensed it was a key part of the message. 
She continued but I couldn't shake thoughts of the missing card.
Kat then described Michael drawing a symbol in the dust, not in the grass, in the dirt. The symbol is like a star—star of David—pentacle— or symbol of the divine feminine in a circle. 
I had just poured a concrete sidewalk over the dirt area between our two grass areas. I had formed a recessed circle in the concrete to receive a decorative symbol. We decided on the yon-Yang symbol and the prototype was on our kitchen counter. I explained that construction lines I used to create the symbol had appeared to me like a star.
When Kat began to excuse herself to move to another reading, the Card subject hit me hard. I went to find the prop. As I searched, I remembered the days in Vegas.
Normally our focus around the NFL draft has naturally been on Anthony. It is held yearly on the anniversary of his passing and he loved football. On last year's trip to Vegas, Michael was heavily on our minds.
Cody Lee was the celebrity entertainer who sang the national anthem to open the event. Cody is a musical savant and also blind and autistic. He brought Michael's spirit to us that day.
Also, as television monitors scanned the audience, Lisa saw a young boy in a wheel chair, who also brought us to Michael's spirit.
My search didn't last long. Somehow it had fallen behind a cabinet.
I brought it out to display to the group between readings. Kat was quick to point out that the number 22 on the card is special to her and in fact, that is her birthday AND the date on which we had dinner together.
This reading was validated to me and others through my confirmation of Kat's descriptions. More validating to me were the feelings I sensed which leave no doubt that I felt similar to when I could touch our Michael.
Our children are like that Card; though they are no longer on display, they are always there, somewhere. We just need our thoughts to bring them into focus. With a little help, we can momentarily sense them again with all six senses.
Thank you Kat Ballie and Michael, Rick Wilcoxson 
---
---